IT solutions for large businesses
We've got over 30 years' experience in supporting large businesses with their IT strategy. When you work with BT, you'll have access to the high quality IT solutions you need, from the world's leading technology brands, with full service wrap.
Thank you, your form has been submitted successfully
Sorry, there is an issue with your form submission
Please see the below errors
Sorry, this form has failed to submit
Developing your IT strategy
Today's businesses face a changing landscape, where business models, customer expectations and employee demands are all driving a new world of work. Success is now dependent on an organisation's ability to not only manage this change, but embrace it. Technology helps businesses meet the challenges of operating in a super-connected marketplace, encouraging revenue growth, boosting collaboration and productivity, and supporting flexible working.
How ready is your business to meet the demands of the modern workforce?
Mobility and flexibility are key to not only empowering, but attracting and keeping today's employees. In a world of intuitive devices, apps for everything and always-on connectivity, modern workers expect the same experience from technology in the workplace as they enjoy at home. Consider these facts:
91% of employees keep their smartphones within arm's reach1
Employees spend 42% of the working week away from their desks2
Flexible working is becoming the most wanted staff benefit3
Our vision is to enable your people to work any time, any place, anywhere. And we can deliver this by helping you choose the right devices, the right tools to encourage collaboration, and the right foundation for your IT infrastructure with a robust network.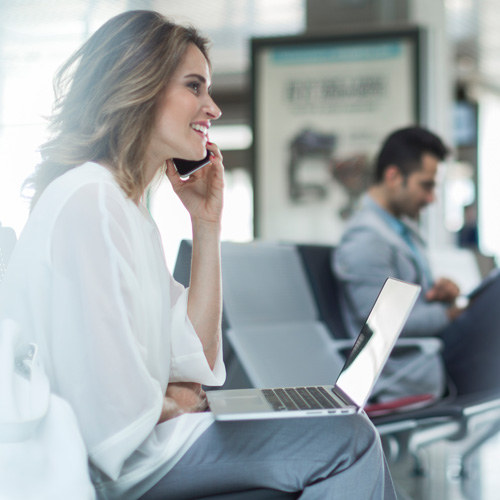 What IT solutions do we offer for large businesses?
Choosing to work with BT gives you access to one supplier that can service all of your IT needs. Not only can we provide all the IT hardware and software you need from the world's leading technology brands, but we'll also deliver a full service wrap, if that's what you need.  And if your needs require a more complex solution, we have the experts you need to work with you at every step. They'll make things simple and plan the IT solution you need to support your organisational objectives.
Since we've got over 30 years' experience in supporting large businesses with their IT requirements, you can rest assured we'll get it right first time. We'll work with your BT Account Director, leveraging our combined expertise and strong vendor partnerships to build the right IT solution for your business.  As well as IT hardware, we offer datacentre, cloud and hosted solutions, networking, security, end user computing and unified communications technologies.
Our IT solutions
IT hardware, software & service for large businesses
Why BT for large business IT?
Support from highly skilled, accredited and experienced IT experts, with service excellence at the heart of everything we do.
We take time to understand your business and help you develop the right IT strategy and technology for your needs.
We have access to the most advanced IT solutions available, developed through our strong technology partnerships.
Our experts can help you implement complete IT solutions to create a reliable and robust underlying architecture.
We're easy to do business with
When you do business with us, we believe the service you receive should reflect our values – so we'll do our best to keep it personal, simple and brilliant.
Personal
One point of contact for all your IT needs
Experienced, knowledgeable people to support you
Delivering the best service and solution at the right price
Simple
We like to avoid jargon
We'll keep it simple so you know exactly what you're getting and why
Our advice is always impartial, so you know the solution we offer is the best for you
Brilliant
Whatever we do, we do it really well
You can feel confident we'll deliver
We collaborate and pull everything together, so your experience of working with BT is seamless
View things you need to know
IBM Mobile Device Management trends and roadmap
The State of Business Communication (BT research 2014)
Future of Employee Benefits report – Grass Roots 2016
Get in touch
0370 429 3020
Get in touch with one of our IT Specialists who'll help with your sales enquiry
Leave us your details and one of our IT Specialists will call you back
Handy phone and email contact details for key teams
---
---